Stop searching for a needle
in the haystack
Let PowerTrack find it for you
As a performance engineer for a clean energy portfolio, you are tasked with a nearly impossible mission – analysing and optimising the performance of each and every asset under your management. Using nuanced approaches for data synthesis, you are responsible for identifying strategic energy losses that no one else can detect. And if that was not difficult enough, often you may not know exactly what you are looking for when analysing mountains of data. That's where PowerTrack, AlsoEnergy's flagship application for clean energy portfolio management and optimisation, comes in.
With customised and templated reporting and charting, PowerTrack provides simple identification of trends to help you efficiently maximise uptime and financial performance of the entire portfolio.
Your analysis is only as good as your data
We know that data integrity is the foundation of any work that you do as a performance engineer. That's why our focus is providing you with clean, quality data and clear data visualisation. Coupled with robust reporting and analytics tools, PowerTrack does the heavy lifting so that you can concentrate on the root cause analysis of underperformance.
In addition to our extensive history of data and advanced analytics, AlsoEnergy ensures the highest-quality data thanks to our edge-to-cloud platform. With PowerTrack at the core of our integrated platform, all edge solutions are designed for compatibility, while PowerTrack also offers flexibility for third-party hardware. When PowerTrack is deployed with AlsoEnergy's market-leading monitoring and controls edge solutions, customers benefit from a single point of accountability throughout the lifetime of the asset.
Critical insights for assessing asset health
With an intuitive user interface, PowerTrack provides macro to micro resolution views of the portfolio, fleet and assets so that you can get an at-a-glance view or dive down into an individual piece of hardware.
While high signal-to-noise ratios and remote troubleshooting enable O&M providers to rapidly identify critical hardware faults, PowerTrack offers premium features for performance engineers to meet the more challenging tasks of identifying long-term performance losses and trends. Key PowerTrack features include:
Site dashboard overview, with device and failure analysis testing
Automated prioritisation of lowest performing assets
Templated and customised reporting and charting to identify performance deviation and causes of underperformance
Tools to quickly perform root cause analysis of losses, such as energy loss waterfalls
At-a-glance identification of site underperformance and root cause analysis with advanced heatmaps
Simple and personalised data export for additional data cleaning, filtering and analysis
Individual hardware drilldown, such as inverter performance, ranking and heatmaps
Multiple models for calculating expected energy (i.e., original, 8760, as built) and for benchmarking
When you standardise on PowerTrack for performance engineering, you get a simplified work process with a single source for all performance data of all assets under your management.
Essential features for performance engineers
On-demand and automated reporting, such as site production and losses and inverter variance to identify underperformance causes, plus customised development of reports.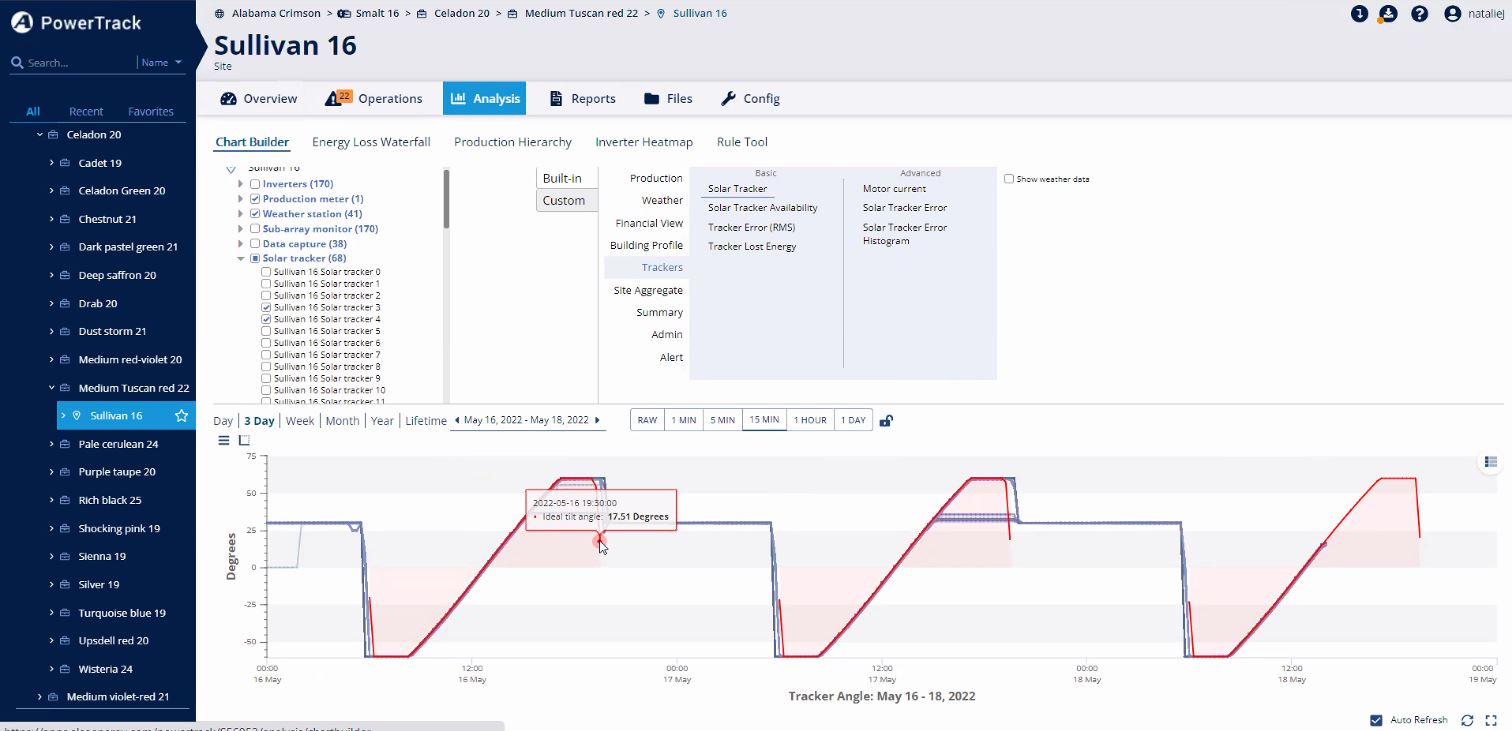 Interactive, built-in charting, such as tracker angle and RMS error, actual versus modelled production and more, to analyse performance deviations. Meanwhile, customised charting enables the selection of specific hardware registers and aggregation methods.
When you use PowerTrack, you gain more than just an application. You are also getting a partner. AlsoEnergy is committed to your success throughout the lifetime of your assets. Our dedicated team of engineers and support staff offers a variety of services:
PowerTrack configuration
Online and phone support with 24-hour turnaround times
Live and pre-recorded training videos
Technical articles
Want to see how our team can support you?